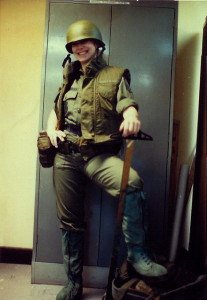 Over the years it has been surprising how many people have asked me about my tour in the United States Air Force. Often it is because no one can believe that a free spirited individual such as myself could have ever allowed myself into taking orders from others.
However for those who know of my early years, they can understand why I needed to leave my home. I realized if I were to get anywhere and to have any type of marketable trade, I had to seek training somehow. After the fiasco of my freshman year of college, I knew that my parents were not about to send me off to school again and by the Maker, I wasn't going to wait on tables.
So in August before my 19th birthday I signed under the delay entry program in the United States Air Force. That is to say, that I would go active duty the following December.
When I first enlisted, I was going into Crypto Maintenance. While I was in Basic Training, little did I know they were doing a complete background check on me – which was understandable considering I was needing a Top Secret Clearance. In retrospect I understand what happened. One day I was summoned to the Squadron office where I was told a cousin of my boyfriend, who was stationed at another base, was to see me. At first I wondered if he was who he was, but he seemed to know his family. On my way back to the barracks, I was allowed to talk to him in person. It didn't strike me as odd that I was permitted to see anyone during basic training. He suggested when I got town liberty that he would meet me with civilian clothing and we would go off an 'party'. Little did I know what that would entail or what type of 'partying' he had in mind. Upon accepting his invitation, I apparently became a risk and therefore the required clearance was denied. He never called for any such meeting, yet as my training consumed me, I didn't think too much of it – as I had experienced being stood up before. On my 25th day of Basic, five days before graduation, I was told I could either take another job or be honorably discharged as the job I originally enlisted for was now no longer available to me. I could had gone home to Paul, yet I chose to stay in. This was to change the time line – The Butterfly Effect took place….
Being the silly fickle thing that I was, I asked the personnel advisor what career field a fellow handsome airman of our sister flight was going in to. Since I had over an 80 rating on my electronics test, I knew I wouldn't have a problem transferring fields. So I went into ECM – Electronic Countermeasure/Electronic Warfare. I was then sent to Biloxi, Mississippi for training. While I was there, I lost track of Paul as I found the ratio of men to women to be 16 to 1 at that time. I didn't know anything about men and to be surrounded by all sorts of guys who had their eyes upon me was more than flattering. Those stories will be included in my writings, but that's not the purpose of this part of my web site…
At Kessler, I enjoyed performing in the Base Theater, hanging out with my friends in the Kessler Male Chorus (who I met through the Base Theater), being part of the Chess Club and going to dance at the Airmen's Club. After duty, I would take my hair down, thus when I went off base, none of the locals knew I was stationed at the base. Most of the local townspeople didn't care for military personnel – especially the ones in technical training. Since I spent my teen years in Virginia, I had a Southern accent down pat and thus never had a problem.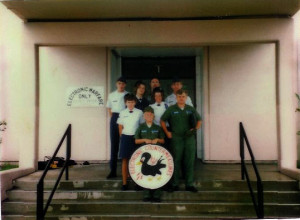 Here's the picture of my ECM graduating class. I'm the one wear the dress blues jacket. One of my other classmates, Sue (second row on the left) also went to my next duty station – Shaw AFB, South Carolina.
For the first three years at Shaw, I was assigned to the ECM shop of the 363rd Component Repair Squadron – or we would fondly call, "Can't Repair Shit". I worked on RF4C aircraft: performed end of runway checks, fixed coaxial antenna cables, crawled into the 'hell hole' in the back to fix wiring and was responsible for keeping tech manuals up to date.
While I was working one day, one of my supervisors had some transparencies and illustrations for an upcoming briefing. I asked him where did he get them. From then I learned of Base Graphics – that the Air Force had a graphics department. Very soon afterwards, I visited the Graphics Shop and talked with the GS-13, Mr. Alva Gibbs, running the shop. I showed them my sketchbooks and within a month after fulfilling my three year obligation in Electronics, I found myself working at the Base Graphics Shop.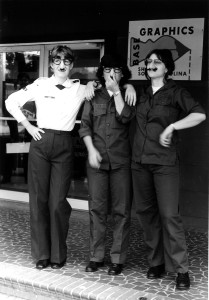 During this time I learned one of the first typesetting machines – a Compset 510. I also took correspondences courses to fulfill my OJT requirements, which I passed with outstanding results. I also reenlisted at this time. One of our frequent customers, Lt. Col Donellan, was the officer who swore me in on the bridge near the NCO club. He was touched as I was the first enlisted person ever to ask him to administer the oath.
Also while I was Shaw, I was active in the Little Theater. I was involved with two plays: Lion in Winter and performed the role of Doris in the Owl and the Pussycat.
While at Base Graphics, whenever we weren't busy we were encouraged to pursue artistic projects. During this time I entered one of the base art shows. I placed first in Black and White Media with an ink wash I called, "Crappy Fishing" Another piece, I called, "Old Lady" placed second in pen and ink. I also learned oil painting, airbrush, and calligraphy during this time.
In August of 1981, I received order for Mountain Home AFB. Once there, instead of a 15 plus member graphic shop, there were 5 members. We were also located with the Photo Lab and Film Library. Up the hall was the ECM shop. I even ran into an old ECM co-worker, Sludge, who was there TDY from Shaw.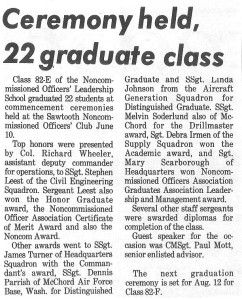 During my time at Mountain Home, I went to PME III, NCO Leadership School in June. My classmates were E-5's whereas myself and two other E-4's were somehow selected to go. As fate had it, I was placed in charge of one of the three seminars – which was how the class was broken down. I would take my group out to drill, we would study together and help each other with inspections and so on.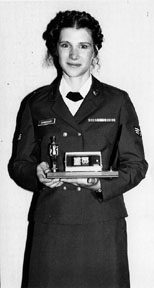 I was thrilled when one of my seminar members won the Drill Master's Award. My group worked hard – although when we practiced on the inactive runway, after formal clases, we would raise our beers as we "presented arms."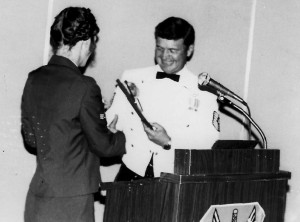 The photos here show me presenting the commander of the school our 'plaque'. As we were the Class of 82E, and as we killed several mice in the complex, we called ourselves 'The Exterminators'. I wrote and presented the speech at the Awards Dinner. Little did I know later on that I would receive the NCOAGA Leadership and Management Award.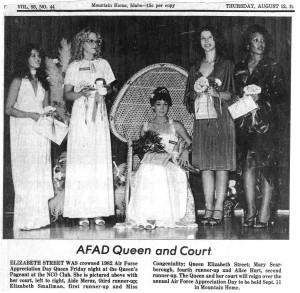 In August, I tried out for the Mountain Home AFB Appreciation Queen's Contest. Even with my totally burnt out perm, I managed to place 4th and rode in a corvette during the town parade.
The competition composed of two categories. The first one was a fashion show – how we presented ourselves. One of the local merchants had us visit his store and select an outfit to model. I chose a brocade jacket with velvet pants and a silk shirt. I wore my hair up.
For the second part of the competition was for talent. While I sang Greg Lake's song, "Let me love you once before you go,"I displayed some of my artwork.
The contestants received lovely gold necklaces and a few days before the parade, I made the signs of each contestant's name for the corvettes, including my own.
The following December, I received orders for Osan AB, Korea. After receiving this assignment, the OSI and other agencies did further background checks as I would be working for the 6th Tactical Intelligence Group. I required a TS SCI clearance. Apparently after being in for 6 years, the government trusted me.
Korea… I lived off base for the first 9 months of my tour. Groceries were either purchased at the Base Exchange that was exceedingly crowded or by going to the local markets. I enjoyed the marketplace more so than the BX. I could purchases Asian pears larger than my fist. Strawberries were huge along with melons and other fruit and nuts. I had clothing, shoes and uniforms made. I bought blankets, countless sneakers and toys for my sons.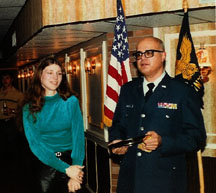 During my tour overseas, I designed t-shirts, plaques, patches, made departure characters of personnel, besides creating briefing aids. I reached the point where I didn't read what I transcribed as it was just another thing to forget. It was ironic that when I originally enlisted I wanted to be in Crypto Maintenance and now I found myself working with Cryptographers.
Off duty was spent either at the gym, singing in the base chapel choir or acting with the base theater. I played Karen Andre in Ann Ryan's The Night of January 16th.
The photograph to the right was of me receiving the unit's plaque – which I designed. It would be later presented to all personnel serving at 6th TIG.
My tour lasted exactly 1 year. Afterwards, I received orders for Malmstrom AFB, Montana, as it would be close to where my children were staying. Until I was ready to have them with me, I wanted to be as close as possible to visit. I had spent a year away and I missed my boys terribly.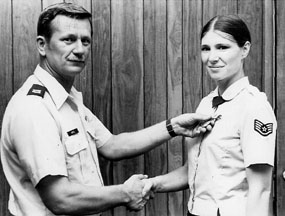 I received my first Air Force Commendation Medal at that time.
At Malmstrom, I was NCOIC of Base Graphics for my first year before a higher ranking NCO was due to arrive to run the department. I improved and upgraded many aspects of our proceeders including using Color Key for making rub off lettering for certificates, buying parallel rulers for the drafting tables and so on. I wrote performance reports, letters of recommendation for awards and started the filing system for keeping track of previous jobs.

In August, I won the Malmstrom AFB Museum Logo Contest. The prizes were a seat on the reviewing stand when the Thunderbirds visited Malmstrom for Big Sky Day and a Charlie Russell lithograph.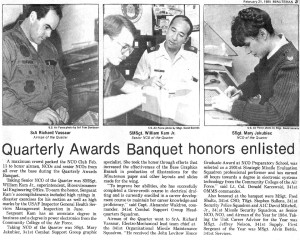 In September, I was sent by Audio Visual Services to compete for NCO of the Quarter, which I won. I was later sent by our Group to compete for the Wing, which I also won. Below are pictures from the Awards Ceremony. The photograph on the right was taken with the base commander, Colonel Parker, and members of the Great Falls Chamber of Commerce.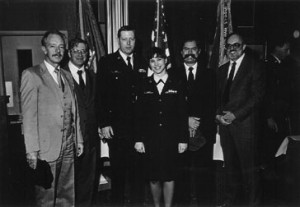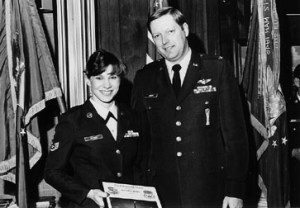 Again, I was active with the local drama community: May Caroll Theater. I was in "A Funny Thing Happened on the Way to the Forum" and stage manager for "The King and I". I was also active in my oldest son's kindergarden class. My Group put me in for the local Community Service "Good Neighbor Award."
I also attended classes through the University of Montana. My classes were in Drafting (descriptive geometry), residential wiring and architecture.
Since I wanted to get my degree – after all that was one of the reasons why I had enlisted, I declined to reenlist and applied to the University of Cincinnati in Graphic Design.
I was honorably discharge in September 1985. I received my second Air Force Commendation Medal soon afterwards.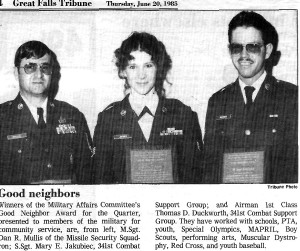 By and large I enjoyed my time in the Air Force. It gave me the basics for my career in Graphics. My only regret dealt with my personal life as I believe that my parents didn't prepare me for what it is like to live in the real world of men. I also grew tired of dealing with the 'good old boys club' and having to fight with management in order to facilitate improvements with equipment or procedures.